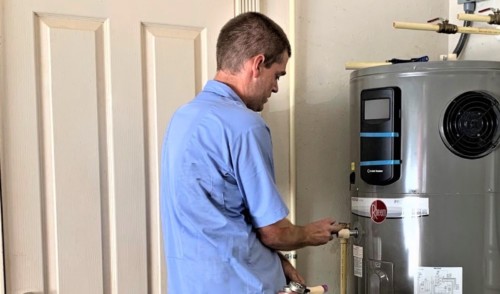 Tank Water Heater Installation in Fort Myers and Beyond
Want a 5-Star Water Heater Install in Fort Myers?
Hire a 5-star Tank Water Heater Installer
If you need to replace your tank water heater, you want a team of experienced plumbers you can trust to do the job right. We've been helping Florida homeowners with their plumbing needs for over 30 years, so you can trust us to get the job done right.
Schedule a water heater installation

Same-day service available
$150 Off Water Heater Replacement
Price
Tank water heater installation cost in Fort Myers
Want an accurate tank water heater installation cost?
Contact us for an in-home price estimate - We will come to your home (for free) and provide you with pricing options for your Fort Myers home.
Schedule in-home quote
Cost Factors
Size of water heater- The larger the water heater, the more expensive it will be. Typically, residential water heaters range from 30-80 gallons. A plumber will be able to help you determine what size water heater you need to meet the hot water demand of your household.
Efficiency- The more efficient your water heater is, the more it will cost upfront. However, efficient water heaters can save you money in the long run via lower monthly energy bills.
Fuel Type- Gas water heaters typically cost more than electric water heaters do, but they are usually less expensive to run on an ongoing basis, so you'll probably spend less on monthly energy bills with a gas water heater.
Signs you need a new water heater
Your water heater is 10+ years old- On average, water heaters last about 10-15 years, so if your water heater is in this age range or above, you should probably start thinking about replacing it.
Your water bills have spiked- Over time, water heaters become less and less efficient, so if your water bills have suddenly increased and you don't have any known leaks or other plumbing issues, it's probably a sign that your water heater is wearing out and will need to be replaced.
You have less and less hot water- Have you noticed that your hot water heater is no longer able to produce the amount of hot water that you need it to? This is usually a sign that your water heater has worn out and will need to be replaced.
Your water has a rusty color to it- If you notice that your water has a rusty/orange color to it when you turn on your hot water, that's a pretty good indicator that it's time to replace your hot water heater.
How it works
How your 5-star tank water heater installation looks from start to finish:
Schedule installation

Ready to have your new tank water heater installed? Schedule your appointment by contacting us online or by calling us at (888)-853-5143. We know you're busy, so we work around your schedule. On the day of your installation, we'll send you an email with the name and picture of the plumber we're sending, so you know exactly who to expect, and when.

Discuss hot water needs

Once your plumber arrives, they'll ask about any problems you've had with your current water heater and/or want corrected. They will also help you determine what size water heater you need to adequately supply your home, and answer any questions you have about efficiency level or add-ons. A new water heater is a big investment, and we want you to be 100% satisfied—which is why we take the time to deeply understand your needs before we provide any recommendations

Get options + pricing

We recommend water heaters based on a "Good", "Better", "Best" scale, so you can choose a heater that best fits your budget. And don't worry, we'll always provide you with a concrete, upfront quote, so you know exactly how much you'll pay for your new water heater. Need financing? Ask about our financing options, available with approved credit.

Installation

We can install your water heater the same day. When we're done, we'll check our work (and even double-check it), to make sure your water heater is running safely and correctly. And by the way, we're clean freaks. We use drop cloths any time we're inside your home, so there won't be any mess for you to clean up after we leave.
Schedule a water heater installation
Customer reviews
See tank water heater installation reviews from Southwest Florida
"

Thank you guys for your honesty, your professionalism and your advice."

" Jordan was very friendly and professional. He knew exactly what he was doing and got the job done in no time. I would highly recommend him and would gladly use him again. Thank you guys for your honesty, your professionalism and your advice. I will continue using Advanced Air for all of my current and future needs. "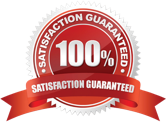 Our promise to you
Advanced 100% Satisfaction Guarantee
If you are not 100% satisfied with the tank water heater we installed within the 1st year, we will remove the heater and refund 100% of your money.
Learn about our promises to you