About Us
Our 5-Star Secret: Make Promises. Keep Promises.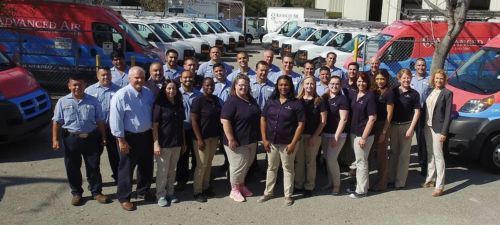 Our secret to getting so many 5-star ratings is this: We make promises to customers and then keep them. Simple as that.
Here are the 5 promises we make to you:
Promise 1: 100% Satisfaction Guarantee
If you are not 100% satisfied with the service provided or equipment we install within the 1st year, we will remove the equipment and refund 100% of your money.
Promise 2: No surprises with pricing
For repairs and installations, you'll know the price upfront before any work begins, so you can make an informed decision.
Promise 3: Always punctual or you don't pay
When you call Advanced Air, we'll give a 2-hour time range for arrival, and if we're even a minute late, your diagnostic is 100% free ($109 value).
Promise 4: Respectful service
No prima donnas here. Just humble people. People who know how to work on a team. For you, that means your technician will work quickly and efficiently and treat you with the respect you deserve.
Promise 5: Round-the-clock service
Cooling issues don't always arise during convenient business hours. That's why we offer a 24/7 Rapid Response Line. Got an emergency? Call us at (888) 853-5143.
By consistently keeping these promises, we've been making life comfortable for Florida homeowners since 1989.

We'd love to do the same for you, too.