Clogged A/C Drain Line: How to Prevent Costly Home Water Damage
June 05, 2014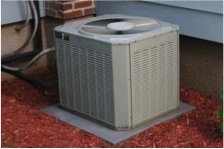 Bad news:  Your air conditioner can accidentally cause thousands of dollars in water damage to your home. And it's likely to happen during Florida's hurricane season.

Wait, water damage from an air conditioner?  How in the heck is that possible?

Well, your air conditioner's inside unit creates water when hot air hits the unit's super cold refrigerant tubes (called the evaporator coil).
(It's just like how water beads up on a glass of cold icy water on a hot day.)

That water building up in the inside unit has to go somewhere, right?

That's why air conditioners and heat pumps are equipped with a condensate pan and PVC pipe (called a condensate drain line) that allow the water to exit out your home.

But if that drain line gets clogged, water backs up the pan and into your home. Depending on where the inside unit is, the water damage could be significant.

For example, if the inside unit is in the attic the water will leak through your ceiling.

Yikes!

And because Florida is so humid and the A/C runs constantly, it won't take long for a ton of water to form.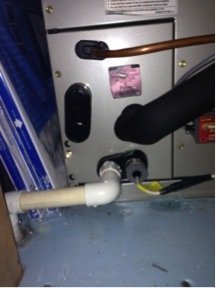 How a condensate drain line gets clogged
It can happen in several ways.

But here's a common one: The drain line clogs up from dust and other junk that gets into your air conditioner or heat pump. That's why we said this is more likely to happen during hurricane season—storms kick up dust and dirt, which can make its way into the drain line.

Also, if the drain line has any long horizontal piping, dust and dirt is more likely to build up.
How to prevent water damage from a condensate drain line
Change your air filter at least once a month to keep dust out of the drain line.
Have the drain line cleaned at least twice a year.  You can use a wet vacuum at the end of the drain line to suck out any build up. But most professional air conditioner contractors will clean the drain line as part of a typical air conditioner maintenance visit.
Have a professional install a float switch in the inside unit if it does not have one already. The float switch detects when water is building up in the drain pan and shuts off your air conditioner, preventing any water damage to your home.