Can Rain Damage My AC Unit?
July 11, 2022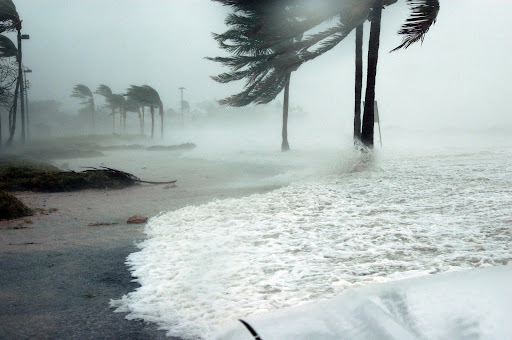 We're anything but strangers to thunderstorms here in Southwest Florida. As the summer heat and humidity pick up, we're guaranteed to get some good downpours. What does that mean for your AC system? Can the rain potentially damage your AC unit, and should you prepare for more frequent AC repair calls?
The quick answer is no. The rain itself cannot damage your AC unit. Outdoor units can withstand intense weather, including frequent thunderstorms. However, that doesn't mean it's free of danger. Some side effects of the rain that could harm your AC unit include:
Flooding around your AC's outdoor unit
Debris blocking your AC's outdoor unit
How to protect your AC during a thunderstorm
Let's take a closer look at each of these factors. We'll also discuss what you can do to prevent potential damage and spare yourself the hassle of AC repairs.
---
Need an AC Repair in Southwest Florida?
Call the pros at Advanced Air for all your AC repair and maintenance needs at (888) 853-5143. We provide some of the fastest response times in Southwest Florida, and if we don't show up on time, your diagnostic is 100% free ($109 value).
---
Flooding Around Your AC's Outdoor Unit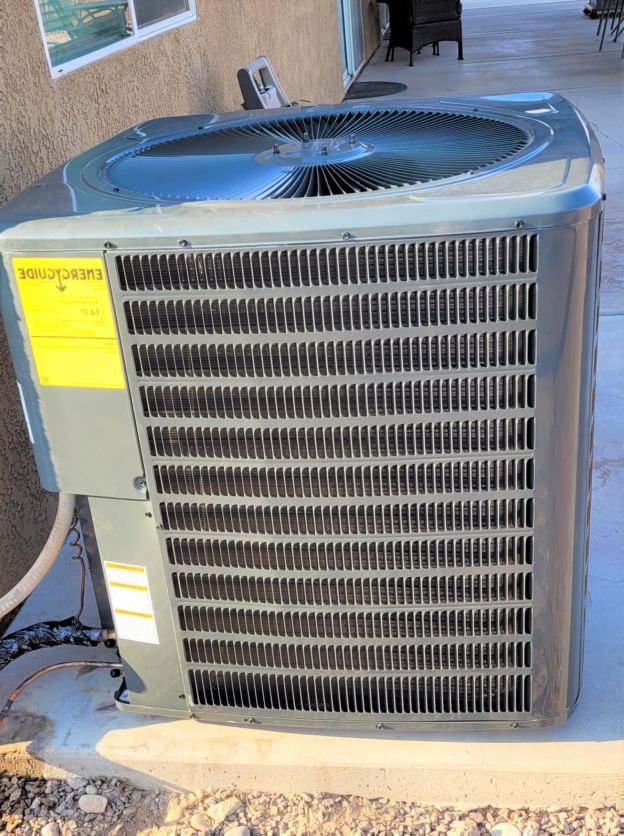 Rain falling over your AC unit shouldn't cause any damage. But, rainwater collecting around the unit is a different story. An inch or two of standing water shouldn't interfere too much, but the risk sets in when that water gets high enough to enter the unit. The danger zone is around a foot of water, but the exact height depends on the size and design of your AC unit.
Once water enters the outdoor unit's case, it can damage the motor, capacitor, compressor, and other system parts. Any component with electrical wiring could get damaged after sitting in water for too long.
Notice water collecting around your AC unit? Shut off its power supply immediately. Try to drain the water away from the unit. Let your air conditioning unit dry out completely. Before turning it back on, contact a licensed HVAC technician for a full inspection.
At Advanced Air, our honest and professional HVAC pros will test each system component to ensure they didn't suffer any damage before turning your AC back on. You can then plan to improve drainage in the unit's area, reducing the risk of a repeat flood.
Debris Blocking Your AC's Outdoor Unit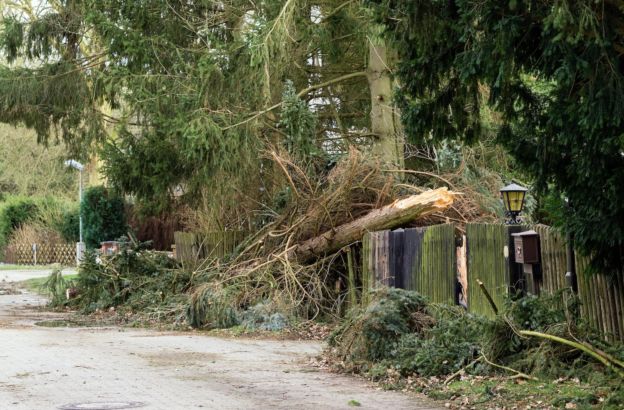 Have you noticed the number of vents on the exterior of your outside AC unit? Those vents are designed to properly circulate air through the unit while protecting the blower motor, fan, and other components from the elements. When those vents are blocked or clogged, airflow is compromised, and you likely need AC repairs.
Sometimes the smallest plant fibers, tree branches, and other seemingly harmless debris can cause harm to an AC system by blocking those exterior vents. The good news is that you can do a couple of actions to protect your AC unit from flying debris.
Cover your compressor with a mesh screen made from PVC-coated polyester. It's a quick weekend project that can block debris from reaching your compressor.
Take a close look at your landscaping. If you have bushes, trees, or other plants within two feet of your AC unit, remove them or cut them back. Keep an eye on these plantings to ensure new growth doesn't get too close to your HVAC unit.
If debris has already compromised your system, you may hear an odd banging or rattling inside the outdoor unit. That's your sign to turn the system off and reach out to a qualified HVAC technician for a repair diagnostic.
Need an AC repair fast? At Advanced Air, we'll check your system for damage and clean the debris, restoring your system to full capacity within just 24 hours!
How to Protect Your AC During a Thunderstorm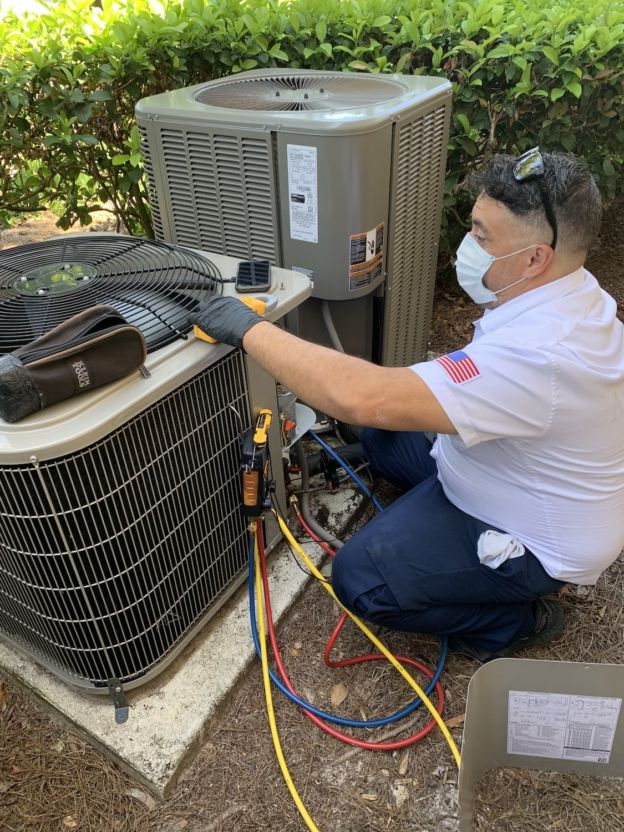 As we mentioned above, rainfall alone won't hurt your AC unit. Factors like lightning and high winds during thunderstorms and hurricanes can damage your AC system.

To fend off AC breakdowns, we recommend:
Turning off the system during inclement weather.
Installing a surge protector. Lightning can cause power surges that are damaging to AC units. A surge protector will send excess voltage into the ground so that your AC is not directly absorbing it.
Installing bolts to keep your AC unit tightly in place. Your unit should feel stable and secure with no rocking or any loose components.
Installing hurricane straps. If you're concerned that your air conditioning unit may move during an intense storm, you can add hurricane straps to keep it in place.
When the storm passes, head outdoors to check on your AC unit. If you see any signs of damage, call in the professionals. Advanced Air offers some of the fastest response times in Southwest Florida, so call us at (888) 853-5143, and we'll dispatch a qualified technician in no time!
---
Prevent AC Repairs with Maintenance from Advanced Air's Trustworthy Technicians.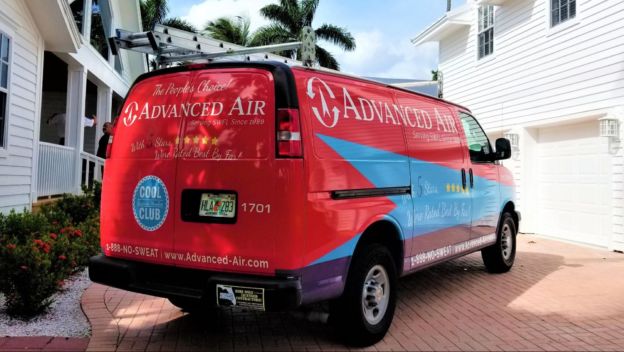 Rain or shine, Advanced Air makes it easy for Southwest Florida homeowners to keep their ACs in top-notch condition. Choose from one of our four CoolClub plans and get annual AC tune-up and special discounts on AC repairs, accessories, and new equipment.
Need an urgent AC repair now? Contact us today for fast and convenient scheduling and no surprise pricing (diagnostics are $109). We've earned thousands of 5-star customer ratings, so rest assured you're getting the best quality possible when you book with us!
---
Similar Articles: