How Much Does It Cost to Install a Tank Water Heater in Florida?
September 22, 2020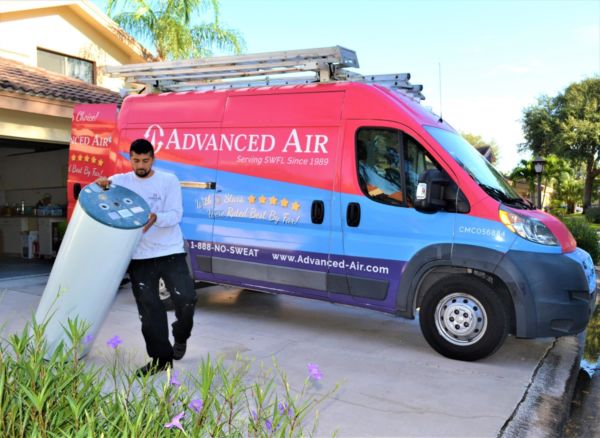 Considering installing a new tank water heater in your Florida home? Your first question is probably, "How much is this going to cost me?"
On average, the cost of installing a water heater in Florida ranges from $1,229-$4,403. We know, that's quite the range. And that's because the cost to install a new water heater depends on a variety of factors like:
The fuel type of your water heater 

The size of the water heater

The efficiency level of the water heater

The company or contractor you hire
Unfortunately, the only way to know exactly how much your new water heater will cost is to have a professional plumber come to your home and assess your current system, needs and budget. However, we can help you get an idea of how much your water heater install will cost, so below, we'll look at each of these cost factors in detail.
Want to skip straight to the part where a professional gives you an exact price estimate? We'd be happy to help. Learn more about our tank water heater installation services or
Cost Factor #1: Fuel Type
Generally, gas water heaters are more expensive than tankless water heaters but cost less to operate on a month-to-month basis.

However, it's very rare that a homeowner would switch fuel types, so if you currently have a gas water heater, you'll probably want to install another gas water heater. If you have an electric water heater currently, an electric water heater will probably be the most cost-effective option for you.
Why do homeowners typically stick with the same fuel type?
Well, if you currently have a natural gas water heater, you'll probably want to stick with gas. As we mentioned above, gas water heaters are less expensive to run on a monthly basis, meaning your bills will be less expensive. 
If you currently have an electric water heater, you'll probably want to stick with electric. The amount of money you'd need to spend on infrastructure by switching to natural gas can completely negate the monthly cost savings you'd see with a gas water heater.
This is because gas water heaters not only require natural gas to be piped to your home, but they also require special venting. If you don't currently have gas appliances, the cost to pipe gas to your home will be very expensive. And, depending on the location of your home, you may not have access to natural gas, even if you are willing to pay to pipe it to your home. 
If you have your heart set on a gas water heater but don't currently have gas appliances, our suggestion would be to reach out to a plumber to see what your options are.
Cost Factor #2: Size
The larger the size of the water heater, the more expensive it will be.

When it comes to tank water heater size, there are a few factors to consider:
Tank size

First hour rating

Recovery rate 
Tank size: 
The tank size is the number of gallons a water heater can store. The more gallons a tank water heater can hold, the more expensive it will be. 
First hour rating:
First hour rating is the number of gallons of heated water you can get if you run your water heater for 1 hour. Typically, the first hour rating will be a little higher than the tank capacity, because as water starts to leave the tank, your water heater can start heating additional gallons. 
Recovery rate: 
Recovery rate is the number of gallons of hot water a tank water heater can produce one hour after being depleted. If you use a lot of hot water or have a larger household, it will be important to pay attention to this number, since it will indicate how much hot water you will have available one hour after using your entire tank of hot water. 
Before installing your water heater, a plumber will help you determine what size will be best for your household and hot water usage.
Cost Factor #3: Efficiency
The more efficient your water heater is, the more it will cost upfront. However, a more efficient water heater also means lower monthly energy bills. 
Tank water heater efficiency is measured by something called Energy Factor which measures how much hot water is produced per unit of fuel, according to Energy.gov. The higher the Energy Factor (EF), the more efficient the water heater is.
A high-efficiency water heater may or may not be the best option for your home and budget, so we would suggest speaking with a plumber before you determine what efficiency level you want. They will be able to help you determine if a highly-efficient water heater will be worth the upfront cost. 
Cost Factor #4: Company or contractor you hire
The last factor that will have a significant impact on the cost of your water heater installation is the company or contractor you hire. 

Typically, the most experienced the contractor is, the more they will charge for a water heater installation.
However, when it comes to an expensive appliance like a water heater, we'd suggest paying more for a quality contractor who you can trust to install your water heater correctly the first time around.
A word of caution: Don't book a contractor or company simply because they are inexpensive. If they are significantly less expensive than other competitors in the area, this is usually a red flag that your water heater installation will not be done as carefully as it should be. 
When looking for a contractor or company to install your water heater, we'd recommend looking for someone who:
Is licensed and insured- You can usually find this information on the company website or by reaching out to the contractor or company directly. 

Has great reviews on Google, the BBB and Facebook- You want to ensure that other homeowners in your area have had a good experience with the company you're vetting. 

Provides warranties and guarantees- You want to make sure that any company you hire will back up their work. We'd suggest taking a look at their guarantees and warranties before booking, to ensure that if something does go wrong, they will make it right. 

Has an established presence in your area- It's important that the company you hire knows your area and can provide expertise about which solutions will be best for your home. We'd suggest finding a company that has a physical location in your area—not just a truck. 
Ready to install a tank water heater? Contact Advanced Air
If you're ready to have your water heater installed by a team of experts, reach out to us! We have a team of highly-trained plumbers that will provide you with an honest estimate, an excellent installation and we'll ensure you're 100% satisfied with your installation before we head out the door.