The 3 Most Common Air Conditioner Problems in the Fort Myers Area
August 19, 2013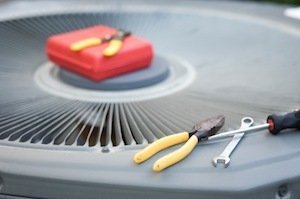 Living in the Naples or Fort Myers-area, we know how much you depend on your air conditioner for comfort.
However, because the air conditioner runs so much here, problems are bound to show up faster than they do in other places. Here are 3 common air conditioner problems and what you can do to solved them.

Clogged drain line

Humidity: Florida has an abundance of it. Because of that, your air conditioner drain line will have a lot of water going through it during the summer. But over time, the drain line can get clogged with algae and other debris.

Signs your condensate drain line is clogged include:

Your secondary drain line starts dripping
You see water pooling around your air handler
Your house catches on fire (seriously, if the water backs up and falls on any electrical components, this can happen)
To unclog a drain line, use a wet/dry vacuum. Connect the hose to the PVC pipe near your air conditioner's outside unit to suck out the debris clogging the drain line. Or you can call a contractor to unclog it for you. 

Refrigerant leak

You know when your system has a leak and is low on refrigerant because:

The air conditioner will start blowing warm air
The outside condenser unit will quickly freeze over when your air conditioner runs
Your energy bills will skyrocket
The air conditioner will run longer to cool your home
Adding refrigerant to an air conditioner requires special tools and is best left to a professional.

Dirty evaporator and condenser units

These are the inside and outside parts of your air conditioner. If they're dirty, you'll notice a variety of issues like:
Higher electric bills- A condenser coil covered in dirt increases the air conditioner's energy consumption by 30>#/strong###, according to a Pacific Gas & Electric (PG&E) study.
Decreased comfort- Dirt keeps your outside unit from properly dissipating heat  so the refrigerant can't cool down enough to produce cold air.
Increased chances of premature breakdown- Since your air conditioner can't produce colder air, it needs to run longer to cool your home, which increases the system's wear and tear.
Cleaning your entire air conditioning system and removing any obstructions will eliminate these problems.

All of these problems can easily be avoided

All three of these problems have one thing in common: they can all be prevented with yearly maintenance from a professional HVAC contractor.

During a typical maintenance visit, most contractors will

Check your drain line for clogs
Check for refrigerant leaks
Make sure your unit is properly cleaned
And much more.
If your system has any of the problems we mentioned above, or you just want preventative maintenance done to your system, schedule a maintenance visit online.

Advanced Air is the air conditioning company Naples and Fort Myers-area homeowners trust. Have a home heating and cooling or comfort question? Ask us online.