Do Thermostats Go Bad?
March 21, 2023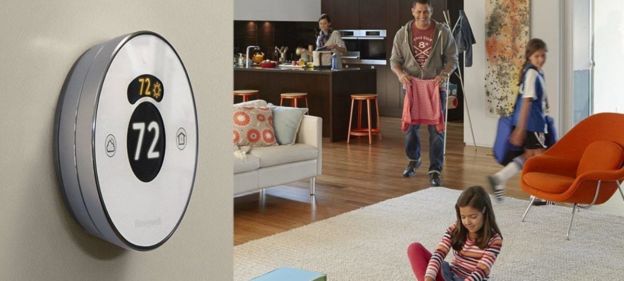 You probably don't pay much attention to your thermostat when it works correctly. These small but very dependable systems do a great job of setting the perfect temperature in your home.
But do thermostats go bad? And when they do, what sort of problems can you expect? Most importantly, what should you do when your system generates a fault?
In this article, we'll explore some of the most common signs that your thermostat is on its way out and give you tips on taking back control of the temperature in your home. We'll cover several problems, including:
Your thermostat has no power or is unresponsive
Your HVAC system won't turn on
Your HVAC system constantly runs
Your indoor temperature doesn't match the thermostat
---
Let the thermostat experts at Advanced Air take care of your thermostat problems.
---
Your Thermostat Has No Power or Is Unresponsive
Power problems are one of the most common causes of thermostat failure. Whether your thermostat is wired to the mains or runs on batteries, a lack of power will stop your thermostat from accepting commands and communicating with your HVAC system.
If your system's display is unlit or the device is completely unresponsive, this is a sign that there is no power. A thermostat technician will be able to find the cause of the problem.
Your HVAC System Won't Turn On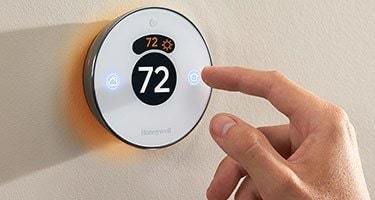 If your thermostat seems to be working, but your HVAC system isn't turning on, you could have one of many issues. For example, a broken relay, wiring defect, or control board issue could prevent signals from being sent from the thermostat to the HVAC system.
When you turn on your thermostat, can you hear a clicking sound? This signifies that your thermostat is working but not communicating with your heating or air system. Before you call a technician, try to turn on your HVAC system manually. If it runs perfectly, the problem is your thermostat.
Your HVAC System Constantly Runs
So, can a thermostat go bad and cause problems for your HVAC system? The answer is yes, especially if your thermostat doesn't signal your HVAC system to turn off. Once your home has reached the desired temperature, your thermostat normally signals the HVAC to turn it off. A malfunctioning thermostat will cause your system to run constantly, taking a toll on your system and causing a spike in energy costs.

This problem could be due to worn wiring or improperly calibrated thermostat settings. Again, a qualified and experienced technician will get to the bottom of the problem.
Your Indoor Temperature Doesn't Match the Thermostat
Another common fault is when the temperature on your thermostat doesn't match the room temperature. If your thermostat says it should be warm, but you can feel the chills creeping in, it's time to take action.
While slight fluctuations are normal, big differences in temperature point to a fault somewhere. If you have a zoned ductless air conditioning system, check the temperature on each unit to narrow down the problem.
How to Troubleshoot These 4 Problems
The above are telltale signs that you have a faulty thermostat. Before calling a technician to look at the problem, try the troubleshooting tips below.
Replace Batteries or Check the Electrical Panel
Power problems are one of the most common reasons for thermostat faults. If you have a battery-powered system, the fix could be as easy as replacing the batteries. If you have a wired system, check your main electrical panel to see if a switch has tripped.
Check the Thermostat is on the Right Setting
While checking the thermostat settings might seem obvious, many homeowners overlook this troubleshooting step.

You should set your thermostat to COOL in the summer and HEAT during the warmer months. It should also be set to AUTO to ensure the system only runs when it is actively heating or cooling the air. If the system is set to ON, your HVAC system will constantly run even when it's not actively heating or cooling.
Adjust the Temperature By 5 Degrees
Manually adjusting the temperature can tell you if your thermostat is having issues communicating with your HVAC system or setting the right temperature.
Try these steps:
In the summer, set the temperature 5 degrees lower than your usual summer temperature
In the winter, set the temperature 5 degrees higher than your usual winter temperature
When you adjust your temperature, you should hear a tiny click. This is your thermostat turning on and sending a signal to your HVAC system. In a few minutes, you should start to feel cool or hot air blowing out of your vents or see your return vents sucking in the air.
Does nothing happen? First, check your circuit breaker to see if there is an electrical problem. Then, contact a professional HVAC technician if nothing continues to happen.
Clean Your Thermostat
If you have a mechanical thermostat (a thermostat that is controlled by a lever or dial rather than digital controls), a simple cleaning could resolve any problems you are experiencing. Over time, dust can build up in the system, causing problems with connectivity.
Remove the cover of your thermostat and gently remove dust from the inside using a microfiber cloth or toothbrush. You can also use compressed air to remove dust.
Check Wires and Connections
If you wonder if thermostats can go bad due to wiring problems, the answer is yes. You can perform a basic wiring check by removing the cover and visually inspecting it.
When you see any of the following problems, it's time to call in the professionals:
Visible fraying or wear of wiring
Loose connections
The wires look fine despite your thermostat not operating properly
A qualified HVAC technician will test each individual wire to see where the problem lies. Never touch the wire yourself, as you could injure yourself or cause damage to your system.
---
For Reliable Thermostat Repair, Contact the Team at Advanced Air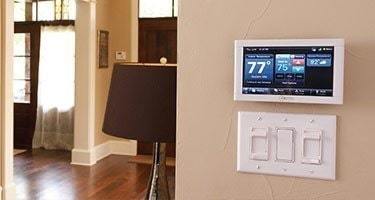 At Advanced Air, we've been offering dependable thermostat services for decades now. Our customers trust our 100% satisfaction guarantee and honest pricing with no surprises. But don't just take our word for it; check out the thousands of five-star reviews we've been proud to receive from Southwest Florida homeowners over the years.
For fast and convenient scheduling and service, call our team today at (888) 853-5143 or click the button below to schedule your appointment. We'll have your system working perfectly again within 24 hours.
---
Similar Articles: