"Why is My Home Dusty Again? I Just Dusted!"
October 21, 2015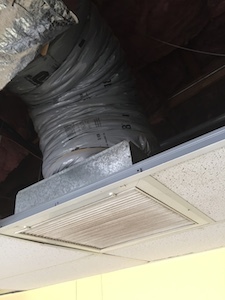 Your home may seem like it's always dusty because it has leaky air ducts.

How leaky ducts make your home really dusty
Air ducts are the pipes that carry air from your home to your air conditioner and from your air conditioner to your home.

Leaks in your air ducts suck in dust and debris from your attic and blow it into your home.

Here's how that happens:

As air comes in through leaks in your ducts, the dust and dirt from your attic comes with it
That dirt is blown out of the vents in your home
The dust settles on your furniture, making it look like you haven't dusted
And leaky ducts are more common than you think. ENERGY STAR reports that the average home leaks 20-30% of the air that passes through its ducts.

And leaky ducts can do more damage than just make your home dusty…
2 more problems with leaky ducts
Leaky air ducts can also create a couple other major problems in your home:
Uneven cooling — Leaky supply ducts (the ducts that carry the air from your air conditioner to your rooms) means not all your cool air makes it to your home, causing some rooms to be too warm while others are too cold.
High energy bills — You're paying to cool air that never makes it into your home. Imagine if 20-30% of your gas leaked out of your car's tank before it could be used.
The solution: duct sealing
Unsealed joints around fittings and connections between sections of ducts are the primary causes of leaky ducts.
To stop the air leaks (and your home's dustiness), you have to seal them. But duct sealing is difficult because most of your ducts are in hard to reach places: walls, ceilings and part of your attic.

You can either hire a professional air conditioning contractor to seal your ductwork or do it yourself.

For more information on duct sealing, check out this guide by ENERGY STAR.

Advanced Air serves the air conditioning needs of all Southwest Florida, including Naples, Fort Myers and Port Charlotte. Contact us for more information.