Can We Really Trust Programmable Thermostats to Save Money?
November 18, 2013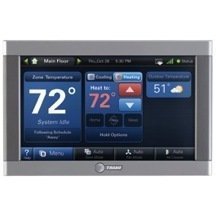 There's a truckload of gadgets out there that make promises they can't keep—like late night fitness products. (Can you really get 6-pack abs in only 6 minutes a day? Probably not.)
But what about programmable thermostats? They claim to save you money by lowering your heating and cooling bills. But are they just gadgets that are all bark and no bite?

Read on to find out what studies have shown.

Why ENERGY STAR changed their mind about programmable thermostats

ENERGY STAR used to promote programmable thermostats as saving you 10%-30% on your cooling and heating bills.

Key words: used to.

ENERGY STAR discovered that, as sales of programmable thermostats grew rapidly,  homeowners weren't realizing the savings programmable thermostats promised.

According to an ENERGY STAR report, a study found that there was "no statistical difference in heating intensity among their sample of single-family houses when comparing households with programmable thermostats and those without."

So is the case closed on programmable thermostats? Not quite.

Who is really the problem?
In the study, the problem wasn't with the programmable thermostat's capability to save money. The problem was how homeowners were using it.

Many households in the Wisconsin study (30%+) were "unable, unwilling, afraid, uninterested, or otherwise reluctant to deploy default programs or to create or deploy custom programs," according to ENERGY STAR.

Others (50%) couldn't get out of the habit of setting their thermostat manually. So they weren't allowing the programmable thermostat to do its job.

Main takeaway: ENERGY STAR says that a programmable thermostat can save you money, but you need to use it properly.

How to set your programmable thermostat for maximum savings
Energy.gov offers a great article about how to set your thermostat so you're not wasting money. Applying these to your programmable thermostat can help you save up to $180 a year, according to ENERGY STAR.

But let's be real – as the study above suggests – most of us don't really want to take the time to program a thermostat. That's why Nest created the Learning Thermostat. All you have to do is install it and it learns your habits and helps you save money without you doing any extra work.

Thermostat options
In addition to the Nest, we carry a wide variety of other programmable and smart thermostats designed to meet your needs.

To find the programmable thermostat that best fits your lifestyle, ask one of our experts for help.

Advanced Air has been serving Fort Myers and Naples, Florida, and the surrounding areas for over 25 years.