Stupid Simple Central Air Conditioner Buying Guide for Florida Homes
May 28, 2015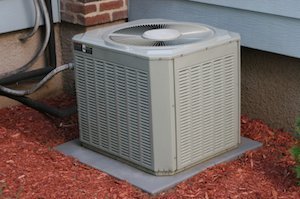 If your AC is 8 to 10 years old, it's time to start thinking about buying a new one.

Use this simple guide to buy a new central air conditioner that's perfect for your family, home and budget.

First, let's discuss 2 types of air conditioning options:
Want a free estimate on an air conditioning installation for a new unit? Contact us today!
AC type: Straight cool w/heat strip vs. heat pump
Straight cool with heat strip
A regular central air conditioner that heats the home using an electric heat strip to get you through cold snaps.
The heat strip is very inefficient, meaning it'll run up your electric bills.
Heat pump:
Cools like a normal air conditioner, but heats your home at half the cost of the electric strip. Instead of using an electric coil, it moves heat from outdoor air and brings it inside your home.
Costs more upfront than the straight cool with heat strip option.
Which should you get?
It all comes down to how often you need and use heat, which usually depends on where you live in Florida.

Some areas, like Port Charlotte, can get chilly. So a heat pump is worth considering.

But if you rarely need heat, like in Fort Myers, Naples, Cape Coral or Bonita Springs, then go with a straight cool system with a heat strip.

SEER: Understanding energy efficiency options
SEER rating: Measures how efficient the air conditioner is and thus how much money you can save. Higher is better. But it also means the system is more expensive upfront.

SEER options: 14-20+
What SEER rating should I get?
How much are you willing to spend now to save in the long run?

To know how much a system costs now, get a free estimate from a Florida air conditioner technician.

Compare those estimates with this annual cost comparison chart from FPL.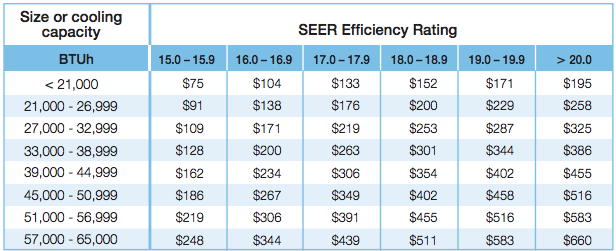 For example: Let's assume you get a 3-ton system. Installing a 16 SEER instead of the 14 SEER minimum, you'll be saving $85 more a year or $1,700 over the system's lifetime*.

*Assuming the AC lives 10 years.
Tons: Finding the right size
A professional AC installer will help you determine what size air conditioner you need using a Manual J Heat Load Calculation.

So your only responsibility is making sure your installer does you right by actually doing the calculation and not just guessing what size you need.
Single-stage vs Two-stage
Single-stage air conditioner:
Cools your home at either full capacity or not at all.
Costs less than a two-stage.
Two-stage air conditioner:
Operates at two separate capacities: high or low.
Runs on the low setting on mildly hot days, improving energy efficiency and comfort (running longer helps it dehumidify your home).
Costs more upfront than a single-stage air conditioner.
Which should you get?
Get two-stage if...you wish your home was more comfortable (less humidity, more even cooling).
Get single stage if...you feel like your current single stage has kept you comfy, and you're on a tight budget.
Blower type: multi-speed vs. variable speed
The blower is the part in the air handler that circulates air in your home. There are 2 different types to consider.
Multi-speed blower
The standard blower
Works like a ceiling fan: usually has 5 pre-set speeds, changing based on your airflow needs
Costs less than the variable speed blower
Variable speed blower
The premium blower
Works like cruise control: precisely adjusts how much airflow you need
Costs more than the multi-speed blower, but provides better home comfort
Which should you get?
Get variable speed if... you're looking for premium comfort.
Get multi-speed if...you're on a tight budget.
Need an AC Installation in Fort Myers?