Get HVAC Rebates in Southwest Florida
September 28, 2022
Are you looking to save on a new HVAC system while reducing your energy bills? From rebates to federal tax credits, there are several ways that Florida homeowners can maximize their monthly energy savings and reduce the upfront cost of system installation.
Southwest Florida's major utility companies have established energy-efficiency programs that incentivize customers to reduce energy consumption while maintaining reasonable customer rates for those who choose not to partake. The main provider is Florida Power & Light Company. Their program has the goal of achieving energy consumption goals set by the Florida Energy Efficiency and Conservation Act of 1980.
Home improvement projects are more affordable with rebates and federal tax credits. By easing budget constraints, you can better decide which HVAC upgrades you want to improve your home's energy efficiency and reduce utility bills.
In this blog, we'll review the following categories that are currently available in Southwest Florida:
Rebate programs
Federal tax credits
---
Learn More About Rebates in Southwest Florida
Contact Advanced Air at (888) 853-5143 or click the button below. We work with Florida's utility companies to assist homeowners in finding the right rebates and incentives for their desired HVAC replacement. Schedule with us today to see why we enjoy over a thousand 5-star customer reviews!
---
Rebate Programs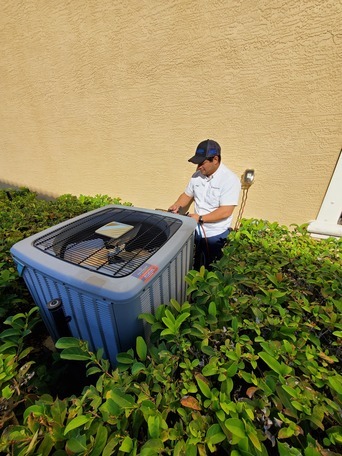 The most popular HVAC rebate in Southwest Florida is for upgrading your air conditioner to one with a higher SEER rating.
What is SEER? It stands for Seasonal Energy Efficiency Ratio and measures how efficiently a system cools your home. HVAC systems with a SEER rating of 16+ are considered to be high-efficiency systems.
Utility companies in Southwest Florida provide rebates for high-efficiency air conditioner replacement. The rebates also apply to new system installations.
Florida Power & Light provides a $150 rebate for new air conditioner installations with a 16+ SEER rating. One of their preferred contractors must install the system, and you must submit a rebate claim. As an approved contractor with FPL, schedule with Advanced Air for a high-efficiency AC installation.
Federal Tax Credits
The federal government offers a renewable energy tax credit for heat pump installations that match Energy Star's criteria. Homeowners who install eligible systems before January 2023 will receive a 26% tax credit. Any systems installed after January 2023 and before January 2024 will earn a 22% tax credit.
After the system installation, fill out the IRS Form 5695 and submit it with your tax returns to receive the credit. You can also contact the IRS on their website or call 1-800-829-1040 if you have any questions.
Looking for equipment tax credits for HVAC systems? They expired in 2021, and Congress has not approved an extension. You can check Energy Star's website for any updates regarding those credits.
---
Improve Your Home's Energy Efficiency with Advanced Air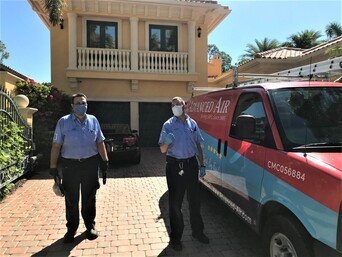 Since 1989, we've worked with Southwest Florida utility companies to help provide homeowners with affordable cooling installations. As one of the area's premier home service companies, we're ready to help you reduce your energy bills with a high-efficiency air conditioner. We also provide flexible financing options to help homeowners save even more.
Ask our knowledgeable team about manufacturer and utility rebates for eligible homeowners. We can help you receive up to $1,150 in total rebates.
Call us today at (888) 853-5143 or contact us below to experience 5-star service!
---
Similar Articles: