How the Trane ComfortLink II Stacks Up Against the Nest Thermostat
October 08, 2014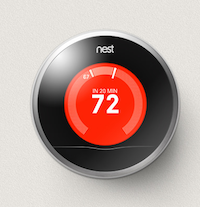 If you're looking to replace your thermostat with a new model, you've likely heard of the Nest Learning Thermostat.
But there are also other smart thermostats out there that you might not have heard of. One of our favorites is the Trane ComfortLink II. So to help you compare the 2, here's our breakdown in 4 major categories:
Design/look of thermostat
Energy-saving features
Compatibility with heating/cooling systems
Additional features
Design/look of thermostat
The 2 thermostats couldn't look more different.

The Nest is round with a small, color screen in the center that displays the current inside temperature and not much else. It's a minimal design that does what you need and tries to get out of the way.
The Trane ComfortLink II, on the other hand, is a large, rectangular 7-inch touchscreen. The ComfortLink can display:

The current temperature in your home
The weather outside
A 5-day forecast.
It can also transform into a digital picture frame when not in use.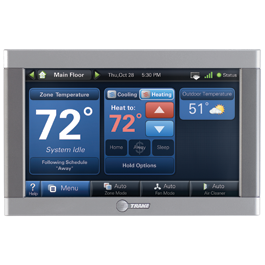 Energy-saving features
Both thermostats have features that help you lower your electric bills.

The Nest's biggest draw is its ability to save you money without you doing much. For example, where other thermostats must be programmed to turn up the temperature when you're away, the Nest uses its motion detector to figure it out on its own.

The ComfortLink is more like a traditional programmable thermostat. Instead of learning from you, you have to set up the temperatures you want it to use for each day and time. You can also track your energy use over time to see if you're decreasing your system's use.

Compatibility
The Nest is compatible with almost any heating and air conditioning system. There are some that it may not work with, but you can check for compatibility on their website.

The ComfortLink can also control just about any system's temperature, but to get the most out of it, you'll want to hook it up to compatible Trane products. These products are built to communicate with each other to improve energy efficiency and tell you when something's wrong.
Additional features
Integrations with other apps/products
Nest has a growing list of products that it work with it to create a more connected, "smart" home. Check out the "works with Nest" section of their website.

Zoning
Zoning with a Nest thermostat requires the purchase of additional Nests for each zone. And then each zone must be adjusted from that thermostat. With the ComfortLink, you just purchase and connect sensors and then control your whole home from the one thermostat.

Remote access
Both thermostats will let you control your home's air conditioning system for anywhere using your smartphone, tablet or computer.

Reminders
Both the ComfortLink and Nest will remind you when you need to change your air filters. The ComfortLink will also remind you when you need regular maintenance and give you the number to call to get it done.

What we recommend
The thermostat that is right for you will likely depend on your situation. If you just want to replace your current thermostat, the Nest will serve you well.

If you're getting an all-new air conditioning system from Trane, we highly recommend the ComfortLink.

Want to install a new thermostat? We sell and install both the Nest and the ComfortLink, as well as a host of other thermostats. Contact us online today for more information.

Advanced Air serves homeowners in Fort Myers and the surrounding areas.