23rd annual Bikes for Tykes Poker Run
January 30, 2017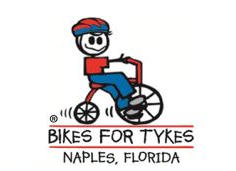 Advanced Air employees build more than bikes at 23rd annual Bikes for Tykes Poker Run
Daylong Bicycle Build-Off team-building activities offer employees options to help needy children and give back to the local community.
Advanced Air president William (Bill) Blaze today announced his company's title sponsorship in the 23rd annual Bikes for Tykes Poker Run to be held Sunday, February 12, 2017. The Poker Run is expected to attract more than 100 motorcyclists to raise funds to purchase new bikes for needy children by visiting five checkpoints, drawing a playing card at each one. The object is to have the best poker hand at the end of the run.
Poker Run registration starts 9:30 am at Cracklin' Jack's restaurant at 2560 39th Street Southwest in Naples, $15 per ride and $10 per passenger with the last bike out at 11 am and last bike in at 1 pm.
Advanced Air will combine philanthropy and team-building during Bicycle Build-Off, a series of team-building activities to help raise $6,000 and build 20 new bikes valued at $1,000. "Today's workforce wants a sense of purpose at work, and options to give back to their local communities where they live and work," believes Blaze. "Bikes for Tykes' mission is to ensure every child in Collier County has a bicycle, and this year, the need is greater than ever," he explains.
Advanced Air employee and management teams will begin the day building a bike start-to-finish as a warm up, followed by teams building a bike while everyone is touching the bike and can't let go, and finally building a bike with every team member blindfolded except one member to guide and handle parts but may not assemble. The final competition includes riding newly built bikes to the staging area to be judged and awarded a trophy for the best bike.
Funds will also be raised from a 50-50 raffle, silent auction with over 100 items, a dunk tank, and car smash. Live music will be provided by rock n' roll band Mannix Drive.
For more information, call Bikes for Tykes president Michael Nelson at (239) 248-1196 or emailmnelson@bikesfortykes.org.
---
About Bikes for Tykes
Founded in 1987, in Naples, FL, Bikes for Tykes® was developed from the simple idea that any child with a bicycle on their Christmas wish list should receive that all empowering and memorable gift, even if their family cannot afford one. The first child to have his Christmas wish granted was Joshua, age 6. His name was on a paper angel at a local restaurant that was trying to help some local, underprivileged children have a Christmas they would not otherwise have. Joshua received his reconditioned bike and thus the Bikes for Tykes, Inc. program was born. Since then, close to 19,000 children in the Naples area have received a bright and shiny reconditioned bicycle. www.bikesfortykes.org.